Central Heat & Air Conditioning in Greater Montreal
In a central air conditioning system, the main unit, also known as the condenser, is installed outside the property. The other unit, known as the evaporator, is installed indoors, inside the vertical air ducts. Once the hot air is captured, it is cooled and filtered by the unit before being evenly distributed around the property through a duct network.
Owning a central air conditioner offers a number of advantages, including:
Even temperatures in every room;
User-friendly temperature management;
Quick and easy installation (if the home is already equipped with a pulsed air heating system);
An increase in the market value of your home;
Efficient dehumidification of the ambient air;
Air filtration, which creates a healthier environment.
All in all, this type of air conditioning is the ideal solution to help you enjoy fresh, purified air all summer, in every room of your property. That being said, it is important to have your system installed and maintained by a team of professionals, such as Confort Expert's team of qualified technicians. If you don't already have a duct network to ensure optimal air circulation in your building, make sure to rely on one of our specialists for a proper installation.
At Confort Expert, we offer exceptional quality central air conditioners made by reputable brands. Contact one of our representatives to learn more about our excellent products and services!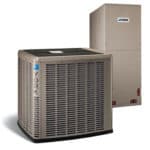 YORK
Industry leader in innovative design
Argent
Or
Platine
Specifications Comparative Table
Limited warranty: parts/compressor/ labour
SEER – Up to… (Comparative for 24,000 BTU, combined)
External Sound Level (Comparative for 24,000 BTU)
Dimensions (Comparative for 24,000 BTU)
30" h x 29.25" w x 29.25" d
30" h x 29.25" w x 29.25" d
Very small size, good efficiency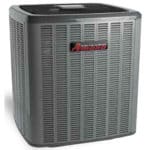 AMANA
One of the most established and appreciated brands in America
Argent
Or
Platine
Specifications Comparative Table
Limited warranty: parts/compressor/ labour
SEER – Up to… (Comparative for 24,000 BTU, combined)
External Sound Level (Comparative for 24,000 BTU)
Dimensions (Comparative for 24,000 BTU)
Small, efficient and economical
Best warranty, best performance