What's the most efficient way to use your air conditioner?
Jusqu'à 12 mois sans intérêt*
Avez-vous besoin d'une évaluation gratuite à domicile?
What's the most efficient way to use your air conditioner?
When summer temperatures rise, there's nothing more pleasant than coming home to a cool, air-conditioned space. At Confort Expert, we know that to maintain a cool home while minimizing your energy consumption, it's essential to use this appliance efficiently. In this blog post, our air conditioning specialists in Laval and Montreal share their valuable tips for maximizing the performance of your air conditioner.
Clean your unit
Whether you have a wall-mounted or central air conditioner, it's important to clean your appliance before using it for the first time every season. You should also periodically clean it throughout the summer. To find out how to do this, refer to the owner's manual. Pay particular attention to the filters, vents, drain and surrounding area of the outdoor condenser. Clean filters, for example, will improve airflow. Also, take the opportunity to check the condition of your unit and, if necessary, contact a professional who can carry out the necessary repairs. It's important not to wait for the first heatwave to test your air conditioner!  If a call to a technician is necessary, the visit will certainly take less time than during peak demand!
.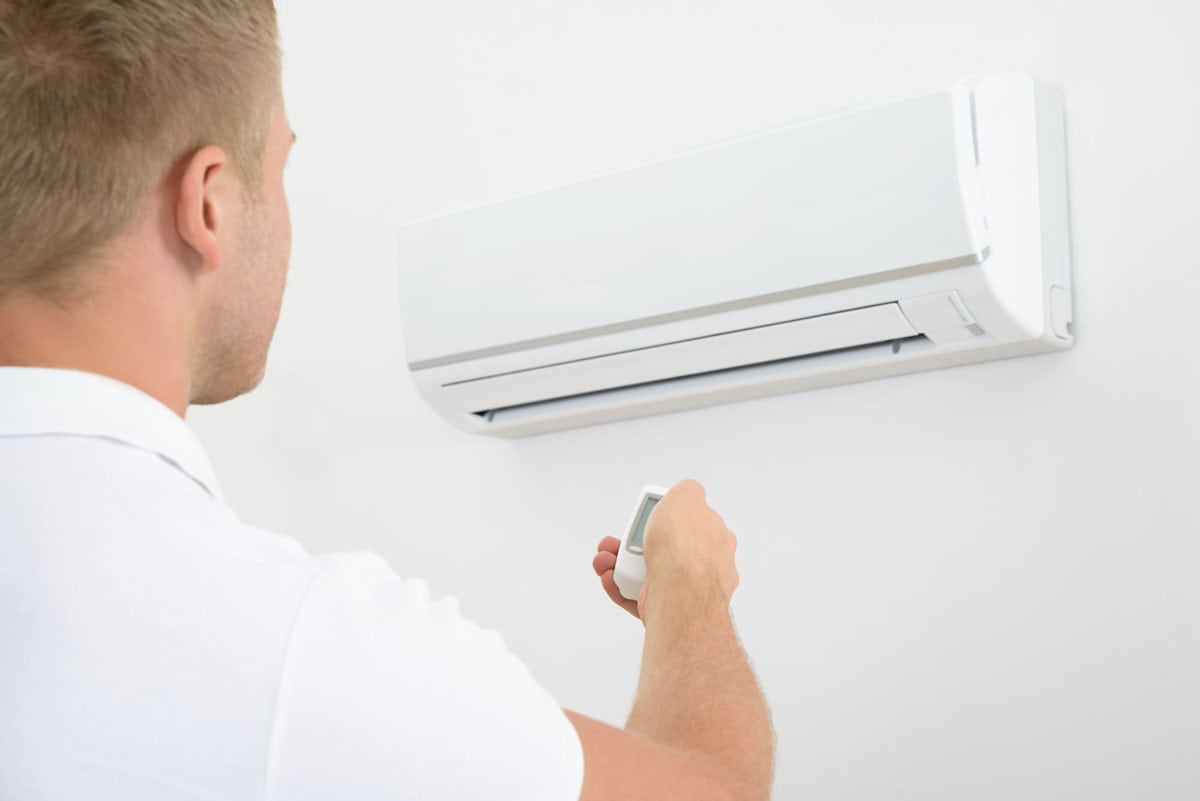 Control the temperature, and humidity too!
Set the temperature at a comfortable, yet energy-efficient level. Avoid setting the thermostat too low (e.g. 18°C), as this strategy won't cool the room any faster. What's more, to be comfortable, it's very important to lower the humidity level in the house! Check the outside temperature and don't set your thermostat more than 8°C apart. An efficient air conditioner should run continuously at low power, to ensure constant dehumidification of the home. Another point to note is that most air exchangers don't prevent humidity from entering the house in summer… so use them only when necessary. Finally, the use of a dehumidifier can often be beneficial in certain areas. It will help you save electricity, since the air conditioner will be used less.
In the case of a central air conditioner, consider investing in a programmable thermostat to automatically adjust the temperature according to your daily habits.
Use the right operating modes
Air conditioners are most often set to "cooling mode" because it lowers the indoor temperature. The "ventilation" function circulates your indoor air without cooling it, which can be sufficient when the outside temperature isn't scorching. Use "ventilation mode" to save energy while enjoying a refreshing breeze.
Optimize air circulation
For an even distribution of cool air, make sure the dampers on your wall-mounted air conditioner are properly adjusted. For a central system, make sure there are no obstructions to the air outlets, such as furniture or curtains.
Improve your home's insulation
Good insulation helps keep your home cool and prevents cool indoor air from escaping. Make sure your windows and doors are well-insulated and sealed to prevent air leaks. You can also use insulating curtains or blinds to block out the sun's rays during the hottest parts of the day. This allows you to cut off a considerable proportion of the heat coming from outside and prevents your air conditioner from working overtime.
Follow these tips to enjoy a cool and comfortable home while reducing your energy consumption. For all your air conditioning repair and installation needs, contact Confort Expert in Laval and Montreal. Our specialists will make sure your air conditioning is working at peak efficiency. Have a great summer!